An investment in an accurate farm map provides instant and enduring returns. Add value across your whole business from planning to recording (proof of application), decision support, compliance, Health & Safety, benchmarking and more.
Greater precision means better decision making
An accurate farm map is a key communication tool to farm staff and contractors
Your land is the foundation from which the entire operation runs. Having precise information about your land enables you to maximise your farms potential through improved farm management, planning and budgeting. The digital farm map becomes a valuable asset to connect to multiple organisations and assists in creating and implementing your farming strategy.
Using these maps farmers and growers can utilise precision farming technology to optimise farm inputs and target applications, allowing an improvement in production and returns.
Ballance mapping services offer two map types: Aerial and GPS maps. Our Ballance Nutrient Specialists can help you to decide which type is best for your farm.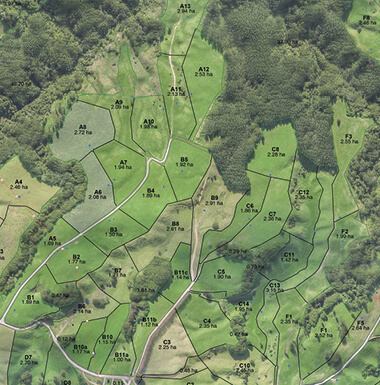 Aerial:

❱❱ High resolution/high definition imagery – acquired by plane or drone
❱❱ Accuracy - 30cm horizontal, 60cm vertical
❱❱ Elevation data collected enabling accurate surface area calculations
Ideal for:
❱❱ Flat or rolling country where high quality imagery is required
❱❱ Hill country where quality imagery is required
❱❱ Integrating with Ballance SpreadSmart technology for accurate and safe aerial top dressing
❱❱ Farm Environment Plans or compliance planning
❱❱ Creating an interactive view of your farm in MyBallance. Utilise your aerial map in MyBallance for highly accurate planning and precision activities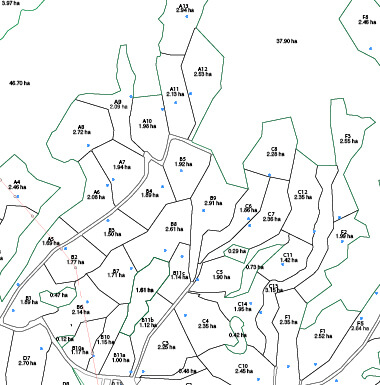 GPS:
❱❱ Highly accurate 5cm horizontal, 20cm vertical.
❱❱ If imagery is required, LINZ imagery can be used, however may be outdated and not accurately aligned
❱❱ Elevation data is calculated using best available data
❱❱ GPS map data capture requires people on the ground on your farm to gather the GPS data required
Ideal for:
❱❱ Precision Farming
❱❱ Intensive Agriculture
❱❱ Horticulture
❱❱ Arable
❱❱ Viticulture
❱❱ Verifying spreading, spraying and planting activities
Easy & fast service
Ballance have partnered nationally with one mapping provider, GPS-it, which enables us to deliver a cost-competitive, accurate and fast mapping service.
GPS-it started providing mapping services to customers back in 1998. Years of mapping has provided GPS-it with a wealth of knowledge and are the industry experts.
Your local Ballance Nutrient Specialist will guide you through the decision-making and ordering process and provide on the spot quotes. Once the map order is placed, a GPS-it representative will be in touch within 7 working days to arrange the data capture.
You can expect a draft map to review within 30 working days of the map order being placed.
Simple pricing
Simple pricing approach based on your farms location, hectares and mapped areas.
Consumables
Once the map is produced, farmers will receive a PDF farm map via email. If you would like whiteboards, physical maps and pads these are available to order.
Rights to the data
With the Ballance mapping service, your farm data captured remains your property and can be used by you for other activities.
Map creation process
The journey to accuracy starts with data capture out in the field, followed by map generation back at GPS-it.
Data Capture
Data capture for Aerial maps is generally done by plane but in some cases, GPS-it will use a UAV/drone. Once the farm has been flown, a Surveyor from the GPS-it team will call you to confirm a time they can come on farm to take some reference points.
Data capture for a GPS maps requires GPS-Surveyors on farm to take survey points along fence lines, races and drains.
Map Generation
You will be sent a draft map to verify the accuracy, make any changes, add paddock names or numbers and add specific features.
Once you have signed off the final version of your map, GPS-it will email you your farm map in PDF format and organise the despatch of your consumables. The map file is retained on file for continued data maintenance.
MyBallance Mapping

For Ballance customers, having an accurate farm map in your MyBallance account ensures you have the highest degree of functionality and experience on the MyBallance platform. It allows you to engage with Precision Farming to improve your nutrient use efficiency and management.
Order from your farm map (by paddock or block) and the fertiliser required will be automatically calculated based off the accurate hectares of the area
Accurate surface area measurements of blocks
Health & Safety hazards can be marked on your farm map
Create fertiliser exclusion zones
Proof of application – where using Precision or Tracmap technology, or create manual proof of application

Make the change to an accurate farm map today

Contact your Nutrient Specialist by calling 0800 222 090