Our Farm Sustainability Services team make it easier for you to achieve economic, environmental and social sustainability on your farm.
As regional councils focus on reducing nitrogen, phosphorous, sediment and faecal bacteria losses on farms - our specialised team work with you to identify environmental risks and opportunities - providing practical advice and solutions to ensure you meet your compliance requirements. Working with key industry partners including regional councils, irrigation schemes, and dairy companies, our team provide effective nutrient management solutions tailored specifically to your farm.
With over 60 years experience in nutrient management, we're committed to leading the way with world-class sustainable solutions to prepare the ground for your success, and future generations.
Our services
Our Farm Sustainability Services will help you to meet the requirements for industry certification schemes, regulatory compliance or applications for resource consents:
Year-end Nutrient Budgets

Generated in Overseer®, a Nutrient Budget provides a clear overview of your farm's nutrient inputs, outputs and losses for a particular year. When your farm reaches a near-steady state, it provides a reasonable estimate of your farm's nutrient flows.
Scenario Nutrient Budgets
A Scenario Nutrient Budget allows you to model how potential changes to your farm system will impact your nutrient flows. These scenarios can include stock numbers, fertiliser changes, effluent or feed usage, changes in irrigation, or adding a feed pad,herd home or wintering barn.
Farm Environment Plans
A Farm Environment Plan provides a plan for sustainably managing your farm's soil, water and nutrient resources.The plan is developed specifically for your farm and reflects the environmental risks and opportunities associated with your farm and how they can be managed most effectively.
Our process

Your Ballance Nutrient Specialist will be your single point of contact and provide ongoing support throughout the process.
Together, let's prepare for 2025
By 2025, New Zealand farmers will be farming within nutrient compliance limits. By working proactively together, we'll set you up to ensure you meet your compliance requirements and achieve ongoing profitability.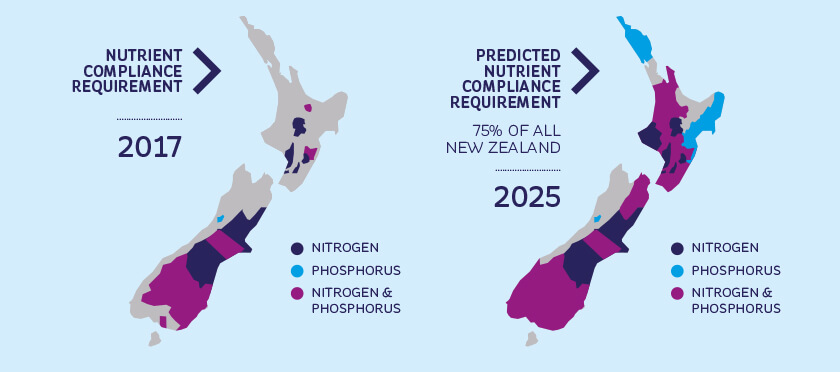 Kevin Van Der Poel
Manager/owner

103ha dairy farm
Rolling contour, variable lean
Soil types: ash, peat, sand, clay
Why did you choose Farm Sustainability Services?
Farm Sustainability Services is a great tool for me and my farm. It helps me understand what we do, and what we'd like to do. It allows us to develop systems that will be sustainable. It makes what I'm doing more enjoyable because I know I'll be still doing it in the future.
Did new regulations affect you immediately?
It was more about being proactive actually. We had recently purchased this farm and it was important to us to set up environmentally friendly practices that were going to be sustainable for the future. We knew were going to push the boundaries with a higher stocking rate so I wanted an understanding of what and how we could manage/mitigate our challenges.
Was the process easy to understand?
They came out, collected the data, and we discussed how we were planning to operate the farm. They went away and loaded the info and then came back and discussed the results with us. It was really helpful. We thought we were going to be challenged by the area that we had, and Farm Sustainability Services confirmed a lot of things for us – the loading that we had, what and how we applied our nutrients, and when we applied it. They gave us some good advice around our management and we were able to put practices in place to develop a sustainable business.
If you found this page interesting and would like to enquire about our services, you can contact our Farm Sustainability Services team on:
Email: farm.sustainability@ballance.co.nz
Phone: 0800 222 090