01 November 2022
The construction of four wind turbines to power the production of green hydrogen at Kapuni in Taranaki has been cleared to start.
The consent granted for the project in December 2021, by an expert panel under the COVID-19 Recovery (Fast-track Consenting) Act 2020, has been upheld by Justice Grice after a hearing in the High Court earlier this year.
In her decision to dismiss an appeal, Justice Grice says she was satisfied the expert panel correctly identified and engaged with the cultural concerns of Te Korowai and Ngāti Tu and did consider the environmental effects of the end use of the green hydrogen, and the end uses of the urea produced.
Justice Grice says the expert panel was satisfied the application, considering the conditions it imposed (many of which had been proposed by Te Korowai) adequately dealt with concerns sufficiently to satisfy consistency with Treaty Principles and that cultural requirements of part 2 of the RMA had been met.
"The Panel acknowledged the effort Hiringa had gone to in order to ensure it had consulted iwi and hapū with an interest in the project, to determine how kaitiakitanga could be integrated into the project, to mitigate the cultural effects of the project and to build a relationship that would result in positive outcomes for the hapū, Te Korowai, the broader community and the environment," the decision says.
Andrew Clennett, Hiringa Energy's CEO, says: "We want to strengthen those relationships and work together as Taranaki transitions from a fossil fuel economy into one that embraces renewable energy.
"We have been particularly heartened and grateful for the ongoing support of mana whenua hapū Ngāti Manuhiakai, throughout what has been a challenging appeal process. We would like to thank the hapū for the time and effort it took to understand the project and what we are seeking to achieve. We share a common desire to respect the environment and their culture, while creating a sustainable future for generations to come."
The Kapuni project is a joint venture between Hiringa Energy and Ballance Agri-Nutrients (Ballance). It will see electricity generated by four wind turbines to provide power, through the electricity grid, to the nearby, existing Ballance ammonia-urea manufacturing plant, and supply renewable energy sufficient to power up to 24,000 homes during peak power.
Taranaki's world class wind resource will be used to produce green hydrogen from water via electrolysis, to initially make low emission ammonia-urea in the existing Ballance plant at Kapuni, which enables the project to be funded, and a flexible volume of hydrogen to be diverted to transport applications, supporting the market during its early adoption phase.
Mark Wynne, Ballance chief executive, says the planned manufacture of green ammonia-urea enables the reduction of up to 12,500 tonnes of carbon emissions and replaces 7,000 tonnes of imported urea made by higher-emitting offshore producers.
Ballance's ammonia-urea plant in Kapuni is New Zealand's only producer of urea (approximately ~30% of New Zealand's total urea use), which is fundamental for all food production systems (horticulture, viticulture, arable, meat and dairy). A high-value manufacturing sector will help New Zealand address environmental challenges and is also a key contributor to our regional economies, bringing employment and investment.
Mr Clennett says the Kapuni project is a critical early step for New Zealand to achieve emission reductions through the large-scale replacement of fossil fuels with green hydrogen to decarbonise heavy transport and industrial processes such as the production of fertiliser, steel and cement.
"Projects of this nature are necessary to achieve the Government's carbon reduction objectives," he says. "For Taranaki it will catalyse the transition from a fossil fuels economy to a carbon-neutral one.
"For local people the project represents an estimated 40 jobs and $4 million plus wages during the build and the development of local technical expertise. But much more than that, it gives the region hope that it can achieve a just transition away from a fossil fuel economy.
"Without wind technology being implemented in key areas of high-quality wind resources such as South Taranaki, New Zealand will simply not be able to generate the electricity necessary to decarbonise."
Converting ammonia to urea to produce nitrogen-rich fertiliser, which has 25-50% less emissions than any other nitrogen fertiliser) requires significant green hydrogen supply, traditionally sourced either from natural gases or coal - both major contributors to greenhouse gas emissions.
Mark Wynne says: "As a farmer and grower owned co-operative, with more than 17,000 shareholders around the country, Ballance has a strong focus on Kaitiakitanga. This is why the project also represents an important first step for us towards reducing our environmental footprint across the board, for the benefit of future generations. Production of green urea would eliminate the same CO2 as taking 2,600 cars off the road."
Mr Clennett says working with Ballance removes a critical "roadblock" for achieving decarbonisation as it allows green hydrogen to be developed at scale for an existing use. This enables green hydrogen to become available as an alternative transport energy source to imported fossil fuels, with refuelling infrastructure and increasing numbers of hydrogen fuel cell powered electric vehicles (FCEVs).
"Hiringa Energy is seeing evidence of the rapid development and adoption of green hydrogen around the world – for trucks, buses, planes, trains, boats and many industrial uses," Mr Clennett says.
"Wind turbines are an important part of that development as they provide the renewable energy used in the production of green hydrogen. Hydrogen supports deeper electrification, as it can be produced outside of peak demand times and is a store of energy that can be transported and used when required - similar to a battery, but without the same environmental impacts.
"That's one of the reasons we were particularly disappointed that Greenpeace joined the appeal, given Greenpeace' support of green hydrogen internationally and that our Kapuni project is one of the first projects to actively displace fossil fuel use in sectors where it is hard to replace.
"There are a number of truck manufacturers looking to green hydrogen as it is in heavy transport that hydrogen is of most impactful. For example, NZ Post is now running its first Hyundai green hydrogen truck and TR Group is introducing a fleet of Hyzon green hydrogen trucks for New Zealand roads. Others truck manufacturers such as Volvo and Daimler are well advanced too.
"In the marine sector, Emirates Team New Zealand is seen as a leading innovator with its green hydrogen powered chase boats, which Hiringa Energy has helped with refuelling expertise.
"In aviation Airbus is just one manufacturer working on green hydrogen plane development. Air New Zealand understands the potential of hydrogen power for its future domestic fleet. Meanwhile, hydrogen trains have already gone into service in parts of Europe."
The Hiringa green hydrogen refuelling network will be operational in the North Island during 2023, with the Kapuni production necessary to boost production and provide an important source of flexible volume supply to the refuelling network to support the growth of the FCEV transport fleet.
For further information:
HIRINGA ENERGY:
Andrew Clennett, CEO – Tel: 027 704 7007
Matt Luscombe, Head of Development & Projects Tel: 027 675 9780
BALLANCE AGRI-NUTRIENTS:
Aimee Driscoll, Head of Communications – Tel: 027 487 9656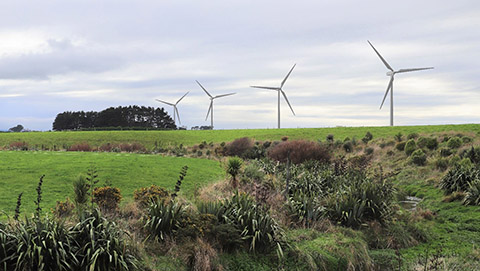 A visual simulation of the four wind turbines to be erected near Ballance Agri-Nutrients' Kapuni Site in South Taranaki.