Future Farming Conversations
The Future Farming Conversations are proudly brought to you by BallanceEx and hosted by dairy farmer Tangaroa Walker.
What is BallanceEx? It's our "Ted-Ex"- inspired platform that brings together experts, scientists, and other big thinkers. They share their expertise and points of view, getting us ready for the future of farming and growing in New Zealand.
Our BallanceEx Future Farming series will take a deep dive into the challenges and opportunities Kiwi farmers are experiencing today and into the future.
Host Tangaroa Walker is joined by world leading experts from diverse backgrounds, we aim to offer thought provoking and inspiring conversations that will arm you with practical ideas you can consider integrating into your farming practices. We hope these talks will reassure you that your current approach is setting you up for success, or inspire you to move forward with an idea you already have in the hopper.
It's all part of Ballance's commitment to helping you farm productively and sustainably, and to empower Kiwis to keep pace as global leaders in farming.

Introducing the first edition in this series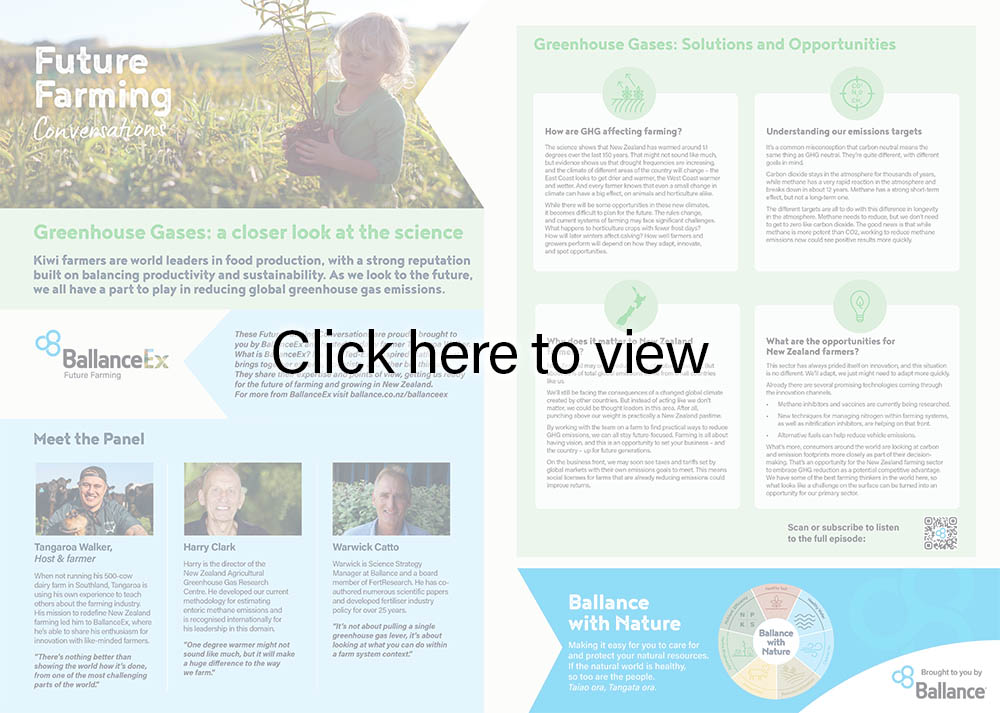 Greenhouse Gases: a closer look at the science
What even are greenhouse gases? What exactly is the issue with them, and what can farmers and growers do to reduce them? In this episode of BallanceEx Future Farming, we break down exactly what you need to know when it comes to greenhouse gases. Where and how they're formed, where they go...and more.