Maximise your pasture's performance now while building a sustainable long-term nitrogen source over time, with SustaiN + K.
SustaiN reduces nitrogen losses from volatilisation by 50% on average compared to urea while potassium (K) maximises the clover content of pasture, fixing nitrogen from the atmosphere into the soil through clover root systems - providing your pasture with a double-hit of nitrogen.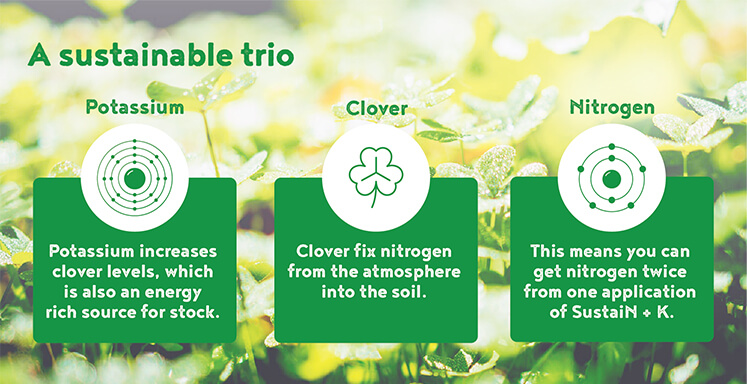 Ideally your pasture should contain about 30% clover, which would fix approximately 200kg of nitrogen per hectare / per year into your soil to deliver a significant increase in animal productivity and dry matter yield. The challenge with potassium (K) is that perennial grasses are more efficient at extracting it from soil than clover. As a result, when K levels in soil are low, grasses out-compete clovers leaving them susceptible to K deficiency and poor growth.
Potassium (K) deficiencies are more common than you think
New Zealand soils tend to be low in potassium (K), with 35% of farms showing below optimum levels for maximum production. Quick Test (QT) K and herbage tests are the best ways to diagnose a deficiency. K-deficient clovers typically have speckling around the leaf margin, with deficiencies showing on older leaves first (see below). Applications of K in fertiliser will help to ensure that the deficiencies don't compromise your farm's productivity.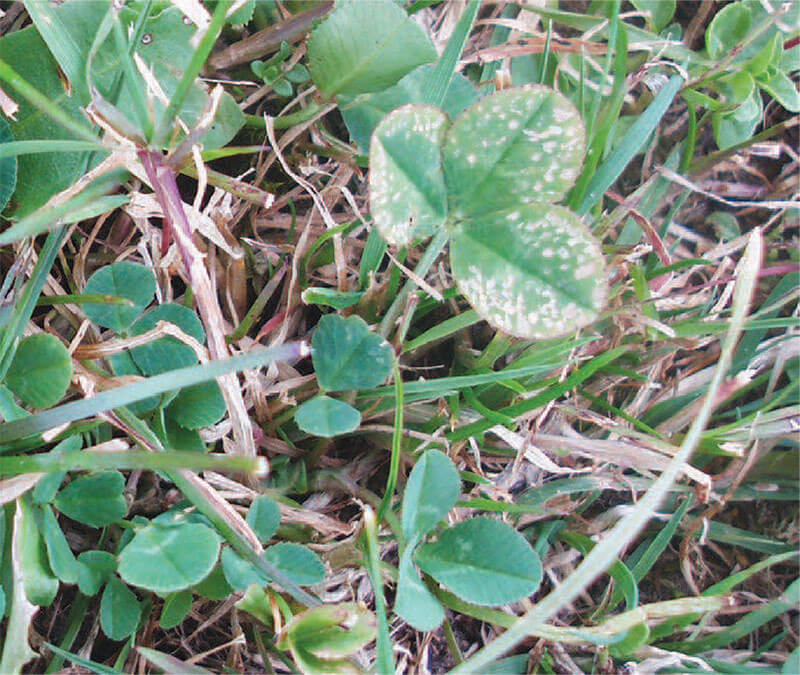 The benefits are clear
Dairy – When soil K levels remain within the optimum range, pasture production is improved. Having enough good-quality feed helps to keep your herd in better condition, which may help to support milk production.
Sheep and beef – Good-quality feed assists in getting sheep and cattle into the best condition for mating, which supports in-lamb and in-calf percentages - while feed quality in spring supports healthy milk production.
Hay and silage – Hay and silage can easily remove in excess of 20kg K/tonne DM, so it's important that this is replaced after harvesting to ensure your pasture production is not compromised.
For more information on the benefits of potassium, or to order SustaiN + K, talk to your local Ballance Nutrient Specialist.
You can also order SustaiN + K through our Customer Services team on 0800 222 090, your preferred rural merchant, or online here.