Molybdenum gets farm on a roll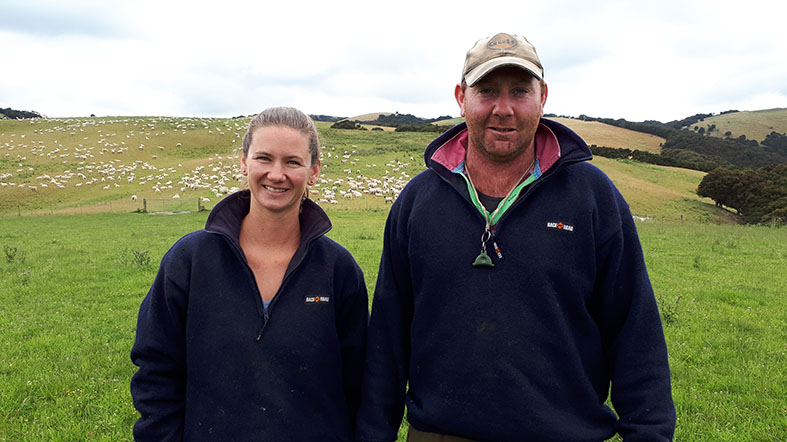 Steve (right) and Esther Miller have seen excellent results from introducing molybdenum at their Otago farm.
Steve and Esther Miller saw huge potential in the rolling to steep land of the Otago sheep and beef property the family trust bought four years ago and with the help of a bit of fertiliser – including the micronutrient molybdenum (moly) – they have achieved incredible results.
"The land had been farmed fairly traditionally and we were uncertain about its fertiliser history. Phosphate levels were around 10 and the pH was about 5.2 when we took it on. Lambs were all sold as stores," says Steve Miller. "We thought we could double what the farm was running and wanted to fatten everything. In our first year, we put in an extra 500 stock units and applied superphosphate along with moly, across most of the productive farm area. The response was unbelievable. We fattened 75 per cent of our lambs to 17.5 kg carcass weights that first year. Now we're up to 85 to 90 per cent."
An increase in clover growth has been a huge factor in this success story. "When we arrived there was virtually none. Now the pasture is clover dominant," says Miller. "Moly has helped us out tremendously in that area."
Miller is gradually developing more land at a rate of 50 to 60 hectares per year. He's been surprised to see the impact of moly on clover growth on even the rougher country, where he'd expect it to be outcompeted by grass and weeds.
Ballance has a new moly product – NutriMax Moly 1% - that enables more efficient correction of moly deficiencies. The product's small and more numerous granules distribute well through fertiliser, so it is easier to spread evenly and deliver the benefits of moly to your whole pasture.
To find out whether NutriMax Moly and other NutriMax micronutrients would be beneficial for your farm, contact your Nutrient Specialist or call Ballance on 0800 222 090 today for a herbage test.
---