23 October 2022
The winner of the 2022 Ahuwhenua Young Māori Award for sheep and beef is Chloe Butcher-Herries (Ngāti Mahanga, Waikato-Tainui), an Assistant Farm Manager at Newstead Farms in Puketapu, Napier. The announcement was made by the Māori Trustee, Dr Charlotte Severne at the Ahuwhenua Trophy awards dinner in the Hawke's Bay on Friday night. The event was attended by over 800 people including the Ministers of Agriculture and Māori Development, other politicians and dignitaries, agribusiness leaders and whānau.
The two other finalists in the competition were:
Puhirere Te-Akainga Tamanui Tau, (Ngati Ira, Ngati Porou, Ngāpuhi), a Shepherd working on Rototahi and Puatai Stations, Whangara Farms, located near Tolaga Bay.
Rameka Eli Edwards (Ngāpuhi, Waikato-Tainui), the Manager at Reon and Wendy Verry's farms Puketitiri and Waitete, in Te Kuiti.
In presenting the winners trophy Dr Severne noted that what floored her was the amazing skill and promise of the finalists. In an unprecedented move Dr Severne inducted all three finalists into the AYMF alumni, an honour usually reserved for just the winner, saying this year she made an exception because of the calibre of all three finalists.
The winner Chloe Butcher-Herries says her legs were shaking on the stage waiting for the announcement as she had no idea who might be chosen. She says winning the award is amazing and says her only expectations in entering were to return to her Māori roots and be appreciated for what she was doing on-farm.
One of the award judges Aaron Hunt, representing Te Tumu Paeroa, says the standard of entrants was very high and the three finalists were all exceptional young people who in turn reflect the number of young Māori who are making successful careers in sheep and beef.
As part of the judging process the finalists attended an intensive three-day study tour designed to provide a range of insights, inspiration and experiences across the sheep and beef sector. This included a visit to Gwavas Station, a previous finalist in the senior Ahuwhenua Trophy competition. The finalists also attended the Hawke's Bay A&P show and met a range of business leaders along with Māori leaders involved in the sheep and beef sector.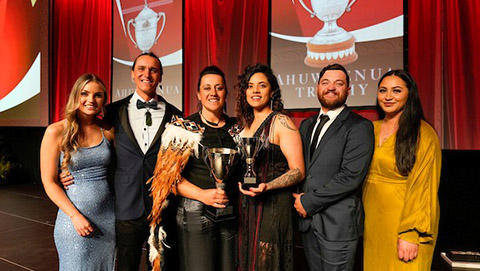 L-R: Sidney Edwards, Rameka Edwards, Chloe Butcher-Herries, Makita Butcher-Herries, Puhirere Tau & Lee-Jay Love