Since 1988, Super Air, a fully owned subsidiary of Ballance Agri-Nutrients, have been leaders in agricultural aviation specialising in the fixed-wing aerial application of solid fertiliser and lime.
Our modern fleet of aircraft are specifically suited to fertiliser application - and utilising the latest state-of-the-art aerial application and GPS technology, Super Air can also integrate with your farm mapping and reporting tools to provide accurate proof-of-placement of nutrients on your farm.
With years of experience providing a safe and reliable service to thousands of farmers throughout the North Island, our experienced team of highly-trained pilots and ground staff are committed to accurately delivering your farm's specific nutrient requirements.
Technology to maximise your investment
To ensure your fertiliser is spread with optimum accuracy to maximise your investment, and to comply with environmental regulations, all of our Super Air planes are fitted with GPS guidance systems. These systems allow our aircraft to validate their position by receiving 10 signals per second from up to 25 satellites, enabling our Super Air pilots to spread your fertiliser with an accuracy of one metre.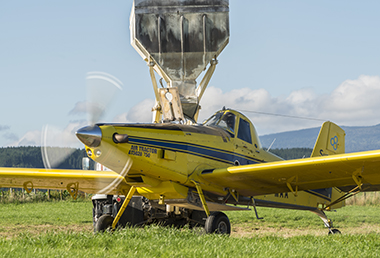 Keeping our planes in the air
To minimise aircraft downtime, our entire fleet of 35 truck loaders are well-serviced and maintained at our dedicated truck workshop in Hamilton - by our team of four mechanics, engineers and fitter welders.

SpreadSmart combines GPS guidance and tracking systems with computerised farm mapping to automate the trickiest part of aerial topdressing - opening and closing the fertiliser hopper at the right time, in the right place.